Remembering the Sudden Stops
By Loren Hettinger, Schwab Cycles Racing Team
January 2018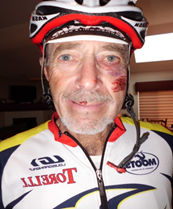 That Thing in Your Head
You know, it's that last Nano-flash thought and split-second view of the landing terrain, and the realization, this is going to hurt! Alternatively, during a more optimistic assessment, a person may survey the terrain and hope for something on the softer side. For instance: a smooth patch of pavement instead of chip seal; chip seal instead of the curb; soft grass instead of a patch of fluffy, loamy soil; a patch of fluffy, loamy soil instead of gravel; a patch of gravel instead of sharply angled rocks; sharply angled rocks instead of a cliff. By now, after some 30 years of bicycle racing, experience has taught me and other old, war-horse racers on my team to look or hope for the softer stuff. Because we know that recovery is tough (well, we sort-of knew as kids, but could gloss over terrain differences, because damage was usually more temporary).
 Quite a few years ago, as a bunch of us masters raced around an L-shaped criterium course in a Front Range, downtown venue, another rider cut inside Gene, one of my teammates, through a corner, taking out his front wheel. All the action seemed to be on a video reel in my head, as he slid out from the curve and even with braking, the rear tire of my bike made contact with his helmet. I saw this unfolding as I angled farther and farther away from his trajectory, thinking . . . I might, might not, might, might not. However, what I remember best is his presence of mind to hurl a criminal conviction at the culprit before hitting the deck, loudly yelling, "You sonavabitch!"
I like the quote by pro cyclist Mark Cavendish, "You know that thing in your head that says, 'You shouldn't be doing this?' Well, we don't have that!" By now, I have more of "that thing" in my head, and I try to use all the lessons of not having so much of "that thing" and the law of gravity as a learning experience. Here are some of my most memorable, usually driver-error, sometimes self-inflicted lessons.
Road Racing
Early in my racing career, I had what I thought was a great idea of combining an office park circuit race in Louisville with viewing a stage of the Coors Classic, which occurred later in the day on the Mogul Bismarck course. My youngest son, who was probably nine, came with me and was to be in the pit during the circuit race with a spare set of wheels just in case. Then after the race and a nice lunch, we would ride around the pro-race course and take-in the aspect of real racing. The circuit course was simple enough, a long straight up one side of a median, a 180 and down the other side--cigar or cylinder-shaped. About halfway through the race, I rolled a front tire in the bottom turn. Suddenly, the distance to the ground seemed quite far.
The road rash on an elbow and knee were stinging, but secondary to running in cleats past scattered spectators up the street to the pit. However, my son and wheels were nowhere in sight. I found him farther up the road, still earnestly holding the wheels, as he said, "I wondered what happened to you!" After the EMTs scrubbed the asphalt out of several raspberry-colored patches, we had a great lunch and then bike ride on the accessible part of the pro-race course.
However, a little road rash was only a harbinger of more epic crashes to come, although, in my defense of competency, these were somewhat a minor component of racing in total when I was often left unscathed. One season, I was thinking of being nearly invincible after racing a road season and into the cyclocross season with no crashes, only to have a close-up view of reality while commuting to work; this in the form of a slicker-than-hell, frosted-over wooden bridge. A few years earlier, "unscathed" was not the case when the Colorado Springs cycling community sponsored a circuit race starting in Manitou Springs through the Garden of the Gods. This on an epic course, and for us older Masters' group, consisted of four laps of an eight-mile loop with several major climbs. I really wanted to preview the course, but my race was first up at 7:30 on Saturday. It took an early alarm and a hump just to get to venue in one piece and in time for a needed warm-up. This took a while, as it was cool. Well, "cool" didn't describe how the 50 degrees felt in the middle of summer; and rain had occurred during the night, so things were damp. I pawed through a box of miscellaneous clothing in the back of the car and found a pair of long-fingered gloves and arm warmers.
The start was genteel the first three or four miles, but the first climb spread the pack into a thin line with gaps. There was a younger category ahead of us, so it was hard to tell where the front of my group was. Then to make matters worse, there were bands of fog across areas of the course as we slowly spun our way to the top. In fact, it became difficult to see very far ahead as riders disappeared into the grey, but we finally reached the apex. The descent was a relief, but the road steeply curved into switchbacks and I thought one curve turned right, but had to make a quick correction after realizing it turned left. The bike (a lightweight aluminum-framed species that I always equated with a nervous, twitchy, green-broke horse) did not take kindly to the move, and the front wheel shot out from under me. I skidded on my left hip and side as if a flat rock on a smooth pond across part of the road onto the shoulder near a drop-off into a ravine of oakbrush—Gambel oak I reckoned. I sat up, trying to catch my breath and was amazed as another racer crawled out of the ravine maybe 10 yards farther down the road from where I had stopped. Red earth had been sublimated onto the back of his jersey, and his race number dangled by one pin. Then I noticed the handlebars of a bike peeking through the brush in the ravine from where I assumed he had landed. He reached the edge of the road and bent over, hands on knees. His shorts had a large rip on one side. I had not seen him crash, but the sight-distance around the downhill curve was short. I made these observations first from ground level and then as I limped in a tight circle trying to cool the sting of losing skin by sanding it off on asphalt. An EMT checked on us, asking questions about how bad we were—something about treatment. I then checked my bike. The handlebars needed straightened, but otherwise it seemed okay. The EMT told me I had a bad contusion on my hip. I already knew that because it fiercely burned and the re-entry friction of the earth landing had incinerated a large part of my shorts. Not only that, but my left hand hurt. I slowly flexed it, noticed skinned places on my gloves and that a little blood showed through. I decided the bike could function, and then mounted up, saying thanks to the EMT. The other racer, who was in a younger category, was still contemplating something profound that occurred either on the distant rock formations or grey mist—maybe the meaning of life without crashing, as I had been. I continued down the course, through more switchbacks, but at a more cautious speed, hoping I could eventually catch onto someone in my group, as there were three more laps.
I settled in to hammering the climbs and more proficiently curving through the descents as the air warmed and fog dissipated, and actually had a decent race after the mishap. The large scrape on my left buttock needed attention from the medics afterward, and then from a teammate doctor who prescribed ointment later the next week in response to the wound weeping nasty stuff through bandages. It seemed as if the fat on that side had been scrapped upward by the resistance of asphalt and been rippled into a washboard pattern. It healed that way— rippled--as if I had developed a six-pack on one cheek of my ass. I told one of my teammates that it was a new way to get rid of fat--to push it into a manageable area—rounded-up as it were--and then efficiently suction it out. I had not done the last part of this procedure.
Several years earlier, a stage race in the Glenwood Springs area was certainly appealing, as this seemed to mirror aspects of the epic pro tours. The race also afforded me a chance to race somewhere new, but near where I met my wife back in the day before bike racing was in my repertoire. Actually, back then I was hard-pressed into defining the adrenaline nuances of the bareback event in rodeos. So, bike racing perhaps was just an extension of that search without so much involvement of leather, oats, and hay. The race consisted of a time-trial on Friday evening, a criterium in downtown Glenwood Springs on Saturday, and a road race Sunday south of Glenwood Springs. This stage started near Cattle Creek, then headed east up a gentle climb to a more severe, but short climb dubbed the Shark's Tooth, and then a long, fast descent to near Carbondale and then back north to Cattle Creek. My category was to do two laps of an 18-mile loop.
The time trial was on a service road near Silt, and I finished mid-pack in my category, TT's not being front and center of my wheelhouse. However, I hoped to move up in the general classification the next two stages.
The criterium occurred on the south edge of downtown Glenwood, with the start and finish near a city park. From there, the course angled farther south for a block, then east for several, and then north toward downtown for about six blocks. This section contained an L-shaped east-west section in the middle, a right-hand turn approach at the bottom, and a left-hand turn into another block south--all downhill, portending tricky, exciting racing. The course then took another left-hand turn to the uphill section back south to the start-finish. I felt uncharacteristically strong during a warm-up and powered up a hill a few times more, just for a confirmation, and then rode the course several times when it opened. My group--about 25 guys--was nearly all lined up as I approached the start, my extra exploratory lap having affected my starting position. However, I forced my way into the edge of the second row—a few other guys grudgingly made way for my incursion. The first few laps were uneventful, as we circled the course, trying to keep straight lines through the corners. I knew enough to stay in the top 10 or so places, but this took some effort, as a lot of people seemed to have this objective. After about four laps, one of the stronger racers escaped and put some distance on the pack. The pace accelerated in response, and I was very much aware of the uphill section to the finish area. After another lap, I realized that five of us had broken away from the main pack, and we continued to take turns in the lead to keep and possibly extend our advantage. I had teammates in the main pack that I figured would help slow the chase. Occasionally, we could see the lone rider ahead, so there was some hope of bridging. I tried to recover on the descents, but there was not much respite. I thought the lone rider might be coming back slightly, but it could have been a mirage in my watery, sweaty vision. I had just finished a turn at the front near the finish area and to the top of the course. I still felt strong, even thought about surging on the uphill section to see if the others would respond. However, there were still about five laps remaining. I slid to the back of the group as we again descended, then after the last right-hand turn and just before the left-hander at the bottom, I heard a kind of zzzz sound. Curving into the corner, I felt the rim of the front wheel on pavement, innately knowing it portended a dire aspect of physics—well, dire was not the word I said either aloud or in my head. As if the course had instantly frozen, the tire lost its function and I pitched violently onto my left side. I felt everything that stuck out hit the pavement in successive order: ankle, knee, hip, elbow on ribs (with a thought, that's broken), shoulder, and finally head. I had a ground-level vision of my bike cartwheeling toward the crowd as I slid after it toward the curb, and heard a woman scream, "Oh my God!" Upon which, I thought, this must be worse than I thought! My skid stopped at the curb and I pulled myself onto it, breathing heavily, seeing the feet of some spectators who had scattered for the carnage and for me to park my butt—the left side of which may have been smoldering. The main pack swept by and I saw Ed, one of my teammates, gaping at me with an expression of, "What hell? Taking a break?" An EMT with a large backpack approached me, asking if I was in need of anything—I assumed medical, because I was already questioning my mental health and selection of an avocation. I finally calmed down enough to answer that I thought I could continue. Except for the flat front tire and a sanded-off abrasion on the left brake lever, the bike seemed amazingly pristine. Conversely, my helmet, a Styrofoam style back then with nylon cover, had been reshaped as if to fit an oblong watermelon. There was maybe an inch extra space in front of my forehead and the thing was wobbly. The nylon cover was missing. I noticed it forlornly perched in the middle of the street and stuck it in a jersey pocket, then mounted up and rode slowly across the bottom of the course on the wobbly flat tire to the next corner. I feebly waved to the crowd in response to an ovation. I guess they were amazed that I could still ride a bike or maybe relieved that I was leaving. The hill was not so appealing now. The lone breakaway rider went by and then my group, some gazing with that same questioning look as my teammate, wondering what happened. After replacing the wheel and flat tire with a spare in the pit, I approached the chief referee, and asked if I should continue, as by now there were only a few laps left. He seemed not to understand, so I turned to show my left backside and torn kit with cherry-red, pink, and asphalt black mosaic of skin. He took pity on me and said I could stand down and finish with the same time as the main pack. I started to protest that I had been in the front chase group, but he had already turned to attend other matters. I figured that with the big climb in the road race the next day, it wouldn't make any difference.
I wondered about the injustice in this whole thing, as that failed valve was on a new tire; one I had spent more than usual, expecting that it would enhance my racing performance. Nevertheless, I already knew about the phrase, "Well, that's racing!" Maybe I had inflated the tire with unusual ardor--of how fast I would be on that smooth pavement. Medical people scrubbed the wounds to remove the grit and placed a dressing on the outside of my knee and yellowish, stinging liquid on my hip and elbow. My ankle was sore, but I had worn two pairs of socks and only a small abrasion showed through the scorched hole in the fabric. Similarly, I had worn a base layer under my jersey, so the attack of the pavement had not gotten all the way through. Something wasn't right though on the left side of my back, and I wondered if there were any massage therapists doing PR at the site. Lucky I didn't find one, because it was determined later that I had separated ribs.
Riding the road race the next day was better than I thought it would be when I first stiffly peddled a warmup. The stiffness gradually subsided and I felt worn, but still durable—perhaps like an old shoe--during the first 10 miles of a relatively gentle, but consistent climb. However, during the climb up the steep--maybe 12 -14% slope of the Shark's Tooth, my back was aching. I tried stretching it out, then twisting back and forth, as it seemed like chiropractic maneuvering would cure it—if something would just snap into place. I made it around into the start of the second and final lap with a group of six, several on my team, chasing five or six of the good climbers. These included most of the group I had been with during the previous day's race, including the race leader, who had soloed away in the criterium. After suffering up the Shark's Tooth again, my group was still together, although stretched thin. On the descent however, Fran, who was on a different team, attacked on the descent, and we lost sight of him as he disappeared around a curve. One of the other guys—Gene or Ed, I think, from my team—exclaimed, "What the hell?" We picked up the pace. It wasn't but another quarter mile when rounding a nasty, diminishing-radius curve, that out of the corner of my eye I saw the butt and heels of someone somersaulting below the berm of the road into the forest. The roadbed angled for the curve, which hindered the view of where he had disappeared. We were on the inside of the curve anyway, but the momentum angled us outward. Even so, we couldn't see anyone. Someone asked, "Was that Fran?" We weren't sure, as the scene had been peripheral and brief, and there were other categories racing. Someone in the group hollered at a race marshal on a motor that someone had crashed on a switchback. In a quest for information after finishing, it was reported Fran had overcooked the turn and hurtled off the road, but had been retrieved. I spoke to him several weeks later at a race and found out he had broken two ribs, had hauled himself out to the edge of the road, and eventually been retrieved by his wife, who had been driving wheel support. An ambulance should have been the next mode of transportation, but Fran thought that was too dramatic.  He said it was a long ride home. The damage may have lasted longer, but he was racing again in a month.
I finished, but now can't remember if it was like 10th, or 15th, or last. My foray onto the tarmac came home to roost several days later when the connective tissue between my separated ribs became inflamed. This is the usual lag period between the infliction and trauma of rib injuries. BMs were problematic, causing me to ingest copious amounts of prune juice (it eventually works); sneezing and laughing were strictly forbidden. Statically hanging from a doorframe seemed to help . . . or did it? Advil at night and lying flat without moving was best. I resumed racing two weeks later, "that thing" in my head having retreated again.
The attraction of stage racing called again the next year to Pagosa Springs during the Memorial Day weekend. This, in a similar mode of time trial on Saturday, criterium on Sunday, and a long road race from Pagosa Springs to the top of Wolf Creek Pass and back on the holiday Monday.
I had perused a turnstile display of cycling paraphernalia a few weeks earlier in a bike shop of a friend (Dave) and noticed a set of grey oblong Styrofoam pads. These caught my interest, and I tried to ascertain what they were, reading, Skids in bold letters on the package. I finally realized they were hip pads that could be slid into shorts to protect that area in the case of a fall. A band of sandpaper-like strips had been thoughtfully placed on one side to act as friction on the inside of the shorts--a stability measure. I figured it would be obvious which way these strips would face. After my forays over the years in criteriums, I thought an investment was quite wise.
The time trial was only about 7 miles, but had a few hills as the course extended out and back on the Piedra Road west of downtown. I tried to ride this with more effort than my usual TT incompetence, attacking hills on the return route, but finished almost a minute down on the top guy anyway.
The criterium course occurred west of town in a housing development around a lake, with a recreation center as the congregating point for check-in and results tabulation. The course seemed benign to me, as it was nearly circular or at least oblong, with no sharp 90-degree corners and a wide street. The one troubling feature in the corners, however, included concrete drainage-pan dips that abutted the connection with another street. These were concerning, but a person just needed to keep the bike straight when crossing them.
The pack stayed together for much of the race, and to me, the racing seemed quite negative. Thus, with about five or six laps left, I decided to see if a breakaway was possible. However, while traversing one of the "benign" corners, I pedaled early, searching for speed as I crossed one of the drainage pans and the down pedal jacked the bike slightly sideways. I grabbed the brakes, skidded, and the rear tire blew with a resounding bang--all in the matter of milliseconds. The bike and I catapulted violently to the ground. I had wheels in the pit and hoisted the bike to a shoulder—cyclocross style—and sprinted (well, "sprinted" is not accurate) maybe 50 yards for a wheel change. I knew there was some physical damage because the right side of my butt felt stingingly hot, yet well vented, and my right wrist was throbbing. I made the wheel change with help from a referee within the required one-free lap rule and rejoined my group. I sprinted with several others for the finish line, but the crash must have taken away some of my horsepower, and I was just glad to be done.
I then realized in a warm-down lap that the gap in my shorts was large and had allowed the protection pad to escape. Not only that, but I had landed too far on my rear and missed the pad altogether. I circled the course and especially searched the crash site and beyond to no avail. I asked several groups if they had seen a grey, egg-shaped pad. Finally, a man spoke up that they hadn't known what it was and had tossed it into a drainage ditch. I did a U-turn and found the missing item perched against a clump of grass. It's not that it was expensive, but after this racing foray, I figured it would be wise to use it again—the landing miss just an anomaly. As I angled toward my car, a teammate's (of a younger category) wife informed me that I was grossing her out with the large exposure of my butt. I had the impression that she thought my nonchalance about the exposure was deliberate. However, I had not realized how much fabric had been lost until then and that I had exposed most of my ass to the other cyclists and spectators for part of the race and after. But, that's bike racing, huh? I used the one Skids pad to belatedly preserve some modesty.
The road race was uneventful; although the climb to the top of Wolf Creek Pass was long and very much selected the mountain goats among us, including Ed and Dave, the Englishman on my team--who had larger "motors." I was not among them. At the turn-around at the top of the pass, four of us linked for the trip back, cautioning each other on the descent about a long switchback near the bottom of the pass—one that continued to bend long after it should. The guardrail was there for a reason. The abrasion on my butt was tolerable and I had smeared it with Silvadene pre-race, which Dwayne, a teammate doctor, had prescribed. It felt cool. My swollen wrist, conversely, was a problem; there was no comfortable position on the handle bar, brake-hood, or drops. This injury plagued me while riding into the next week, and I was worried about it, as the State Time Trail Championship was another two weeks away. I installed time trial bars in preparation and found the pull of these actually felt good. Training for nearly two weeks in TT position seemed to pay-off, and I won a State Championship (my first).
Crashes weren't the only dangers in racing, as there were times when we overcooked ourselves in heat and humidity. My road team continued to evolve and the master's group expanded to include some real "horses" by the 2005-2015 eras. Some of us had garnered state championships, but now we had national champions on the team and their examples were good for the rest of us; indicating that we could take our training to a higher level and could perhaps also excel. Thus, the State Master's Championship Road Race on roads west of Salida, which included about 1,000 feet of climbing per lap (4,000 total) and nearly 50 miles total, was daunting, but not out of the ordinary. The race occurred as a large circuit on county roads, with one section on US50. The race was unique in that it consisted of a neutral rollout of about 7 miles from Salida to the actual start line. The finish line was at the top of penultimate climb of the course.
 We congregated in a town park for a mid-morning rollout, making sure we were prepared with sufficient water and energy bars or gel packs. It was getting warm already, especially for an area in the mountains. We started to assemble and then were told to stand down. We didn't know the reason, and riders started to complain, as the temperature continued to climb. We were finally told that we had to wait for a funeral procession of an ex-mayor to clear the roads. The loudest complainers slunk back to their groups. I sat with the team guys--Gary, Bill, Scott, as well as Fran (who later joined our team)--and squeezed out another energy gel then chased it with more electrolyte fluids. Finally, we saddled up and headed out in a large mass behind an official's car and a motorcycle. The procession was not a smooth flow, speeding up and all of a sudden slowing. A guy had to be alert. Suddenly, everything stopped. Gary and I barely got a foot down and we hopped along for a few feet to remain upright. There was some cursing up ahead and we realized several riders had tangled and were picking themselves up off the road. The waiting we did and all the additional water and electrolyte fluids that had been ingested, plus the nerves caused the disjointed parade; guys were suddenly stopping and urinating at the side of the road. We made it to the start area though, intact, and officials brought approximately 25 in my category to the line. We waited a few minutes more for several younger categories to disappear up the road. By now, I estimated it was 85 degrees. Sweat was already dripping off the end of my nose.
My team started out together, but the hills sorted us. By the last lap, I knew Scott and Bill were on ahead somewhere, and I wasn't sure what had happened to Gary. Fran and I had ridden together for part of the race, but had become separated the last lap as well. Neutral support supplied racers with cold water bottles of either water or electrolyte replacement. The latter saved my day, as leg cramps had plagued me part of the last lap. The bottle I took from a volunteer, as I cruised by, tasted like bubblegum. I attacked the last climb to the finish, thinking I had done a respectable race, or picked up the pace to preserve some pride.
I gathered up more fluids and carbohydrates from the volunteer table past the finish. I waited to see if any others of the team were going to gather for the ride back to town. I looked back down the road and saw Fran hammering the hill, out of the saddle. Or, was he out of the saddle but barely moving? I hollered encouragement and he struggled across the line. He angled over to the side of the road and lay down on the pavement. At first, I wasn't alarmed, figuring he was gassed and would soon recover. I asked him if he needed anything and he mumbled something. I then noticed his pale complexion and asked if I should get someone. He finally sat up and we made preparations to ride back to town. I mentioned at least it's mostly downhill. Fran replied it might not help, and we stopped several times for him to recover. I was beginning to wonder if we needed to find a medical team.
Finally, we slowly rode the town streets to the park where we had originated on this adventure. I was relieved that Fran had made it back, and started to say something to him when I heard a huge volume of water hit the street. I turned and saw the last of a virtual torrent that Fran had heaved—a kind of mini Niagara Falls. I was amazed that this could have happened at this late stage of the race . . . that he could still have so much water in his system. We walked our bikes over to the shade of the trees and Fran sat down to recover. Fortunately, one of the women on the Schwab team was an emergency doctor and she administered fruit pectin and electrolytes to reverse his condition. Fran said he was still weak and wasted the next day. Apparently, he had set up a reverse osmotic process in his system by drinking so much water to hydrate, and not enough electrolytes and induced a hyponatremia condition of low sodium levels in the blood—which can be life threatening.
The long-term lessons of theses forays into competition and those onto the pavement at various venues in Colorado underscored the inherent dangers of close-cadre racing around short courses with numerous corners--as if Gran-Prix or Formula-One racing without the safety features of some vehicular structure around the driver. As time passed, and many of us older Masters accumulated more sense, we started to eschew criteriums, unless they were part of a stage race or for example the National Championships or Huntsman Senior World Games. Road races or at least circuit races were preferred where cornering is generally more controlled and close-in racing less treacherous. It wasn't that we had lost our nerve (really) so much as a lot of us—at least on my team—had gone beyond where youthful enthusiasm had exceeded common sense, "that thing" in our heads had been found, at least some of the time, while weighing the risk-reward aspect to our avocation.
Cyclocross
The potential for disaster to occur during cyclocross (cx) racing is quite high, as most of it is off road, with barriers (with dismount-remount requirements), off-camber turns, and sketchy surfaces of slippery grass, mud, snow, and ice often complicate navigation. The one redeeming factor is that speed is usually much lower than during road races. For me, road racing had essentially consisted of polishing cycling skills on a base learned at a young age. Cx, on the other hand, was a different animal—of taking basic bike riding to a new level—like, from just loping around an arena on your horse to becoming a trick rider and suddenly doing galloping vaults. I was vexed how a person could seamlessly dismount, cross a barrier while carrying the bike, and then remount, continuing as if the barrier hadn't been there in the first place. A few of us practiced this craft, starting slowly by dismounting to one pedal and then throwing the off-leg back over, then gradually dismounting, running along the bike and trying to remount without hurting ourselves—like landing too hard on the saddle, the top tube, or onto the tire. We practiced our craft endlessly, even had some coaching, and watched videos of the Euro pros, as if their awesomeness could somehow transfer to our brains and increase our coordination. Becoming proficient for me was a large learning curve. I had never been gassed in a road race to where I actually stopped, or plodded up a steep hill in a death-march, bike over a shoulder, breathing like the bellows of hell's fires, or as one teammate described, "Like a locomotive!" . . . but cx had this effect.
My first cx racer was a converted touring bike (simply brazed on cantilever brakes for increased clearance and installed off-road tires—with the help of Dave, a friend and bike shop owner). This bike was tall and seemed to grow during a race, until it was a hazard to remount, causing me to wonder about wearing a cup. Back then, fields were generally small though, and I usually counted when called to the line to see if there were 10 or less, hoping I could acquire a point or two for a series.
Although the learning curve was steep, most of hard lessons were minor abrasions, maybe a skinned knee, although during a race at the Boulder Reservoir, I cut a shin into the sub-cuticle, which required stitches. Another episode in the marshes of the Mead Track consisted of sticking a front wheel in a hole of muddy water, which resulted in a face plant and broken nose. Seeing the bottom of cleats from ground level, as other racers jump over you, is disconcerting; but the worst was searching the puddle raccoon-like for a lost lens from my glasses only to find that it had been plastered to my beard in adobe-like goo. Obviously, after sorting myself out, having cotton packing inserted into a nostril, and then riding unbalanced with one lens for distance . . . well, I don't know how many times I was lapped.
However, these were just gentle reminders that not having "that thing" in my head could produce dire results. Yet, cx is addictive, as if a person goes back to their childhood when riding bikes in challenging conditions was so fun. As one old racer explained, "About as much fun as a person can have with their clothes on!" I bike-traded my touring rig for several real cx bikes and by 2005 had extended the road season into concerted efforts full-on into the fall-winter cx-racing season.
The State Cx Championships for 2005 occurred in early December on the Xilinx complex west of Longmont. I had raced on this course before, but organizers generally changed it up to make it challenging each time. I rode several laps before my race and noticed a large flagstone bridge that crossed a small creek. It had a sharp rise of ~ 5 inches, and required a person to lift on the handlebars and jump the weight back toward the rear to make sure the front wheel made the transition.
We Masters lined-up in about three rows of six or seven across. Starts are generally hectic, as all of us want to get to the front while still on the asphalt before the course narrows and enters off-road sections or grass chicanes. I sprinted with the rest around a coned parking lot and then into sand of a volleyball court. I remounted after the sand run, breathing hard. One of my competitors was just in front of me and I decided to pass him, but as I did, the flagstone bridge suddenly appeared in my vision. I belatedly thought about the move to transfer the front wheel onto it, but instead "endoed," landing mostly on the point of my left elbow. This was at first embarrassing, as I had raced cx for numerous years and mountain bikes as well, and thought I had some gnarly qualities. But, "gnarly" had been flung out the back of my helmet by the crash and replaced with acute pain. Other racers went by giving me the look of, "What happened?" or "Better you than me!"
Finishing crossed my mind, but I knew my race was over while attempting to straighten the handlebars and a brake lever. The injured arm responded by circumscribing some airy signals, as if trying to communicate with someone farther down the course that it knew and I didn't. In addition, although I sort-of had an inkling, as I retrieved my spare wheels and packed things into the car, this was the start of a medical misadventure—the catalyst for an injury from hell. By the time I headed back toward Longmont and the retreat toward home, pausing to search for ice, the elbow was the size of a softball.
X-rays later revealed that I had fractured the olecranon process (yeah, the elbow-pointy thing). The orthopedic surgeon indicated the injury was quite common and surgery would be straightforward. Before I could grasp the full measure of the diagnosis and say, "Just a minute here . . .!" surgery was scheduled for the next morning to place two pins and a looping, stabilizing wire. After I was sufficiently coherent to put on my underwear and shoes in the correct order, I was sent home.
Ever optimistic, I figured maybe in a few days, well . . . a week, I would be back on the wind trainer. However, the next chapter to this medical "misadventure" started about eight days later when the incision started weeping nasty stuff. I was admitted to the hospital near the surgery center, and the incision was opened, washed out, and the hardware checked to see if it was contaminated and needed to be replaced. A drain was inserted and the incision stapled together. I then spent four days walking the hospital corridors with the infamous gaping gown (sure, there were complaints) trailing an IV pole, as if a dance partner.
After specialists identified the bacteria strain, I was released, but not without a parting shot of a Groshong catheter being plunged into my chest, so I could give myself antibiotic infusions for six weeks. This catheter consisted of plastic tubing, which the doctors inserted into my chest up and over the clavicle, downward into the vena cavity of the heart. A plastic wing and suture held the tubing in place and a length of it stuck out with a threaded, lanyard-like end for connecting to a bag of fluid. Installing the catheter was much less violent than the orthopedic procedure. I remained "alive" watching the procedure on a TV screen along with the doctors, charting the tube's snake-like journey occurring around and over my body parts  After being shown how, I dutifully hooked up a bag of amber fluid each evening and let it drip, sometimes thinking about the opportunity . . . well, wondering what a few drops of vodka would do.
Removing the catheter was supposed to be a minor procedure, compared to the installation—maybe like comparing a dental hygiene appointment with a root canal. However, in a demented, frenzied workout spate, I had apparently made the procedure more challenging by madly hoisting dumbbells for six weeks with the good arm. This illogically cinched the suture and tube into the chest with unneeded muscle. It's disconcerting to stare at the big surgery-room ceiling lights while a doctor mutters and asks an assistant for scalpels, different tongs, and then cuts and tugs to remove something inside you. However, I was finally free of the contraption.
I sometimes wondered, growing up and reading adventure stories, if I would have been able to hack the Sundance Ceremony of the Plains Indians. This ceremony consisted of a bone being inserted through the chest muscles of the aspiring warrior who gradually pulled free of it and the leather thongs attached to a pole. Or, if I would have had to carry wood and water for the women of the tribe all my life. After this ordeal, I was somewhat more confident and stopped for a double espresso on the way home.
The elbow, however, was not free yet to do what it was supposed to, and I wore a Terminator-like orthopedic brace before and after surgery to remove the hardware. Then after another three weeks, agonizing physical therapy started to unfreeze the injured joint, where smiling (but secretly masochistic) therapists measured progress in small-degree increments with a large protractor. By now, it was mid-March and I at least thought about the road season while first on a wind-trainer, hoping to be ready by early May. But really, just riding a bicycle outside in the sunshine was a blessing.
The next cx season was better, meaning I had no major crashes and no major injuries, and I tried to improve my technical ability. The improvement was glacial, however, and never accelerated much until I had grandsons in cx training camps many years later. However, I gained redemption on the Xilinx course the nest season by winning the state title (old-guys of course) there, the large, flat flagstone notwithstanding.
Mountain Bike
Mountain bike racing started out innocently enough for me, as my oldest son and I started riding together, first on the lower trails of Green Mountain while he was using cycling to recover from knee surgery, and then with my younger son and sometimes my daughter as well on the trails on the west side of Lakewood. My older son had always been more daring than his dad or brother on a bike, having some BMX experiences early in life. He often left me behind him in his journey back to a stabilized knee. Mountain biking for me was not an easy transition from road riding, and learning the balance point and fine line between having the front wheel come up riding a steep ascent versus spinning the rear tire took a while. If I could shell my sons on the road, the tables were turned on single-track that first year, and they often patiently waited for me at the top of some hill wondering what was wrong with their dad. Old dogs and new tricks it seems. We realized there was an evening mid-week race series at Thunder Valley on Rooney Road. This seemed like an opportune way to take our training to the next level. I found out on the mid-week series, the transition of riding blissfully on the single-track trails to racing on them was a huge step in endurance and technical aptitude.
As with cx, mountain biking has a lot of potential for disaster, and this grows as a person pushes the envelope in technical competence. The Front Range has plenty of trails on which to do this, and if these aren't enough, there are more opportunities on the Colorado Trail, Winter Park, Crested Butte, Fruita, Moab, or farther afield in Sedona. However, the rewards of riding through forests, meadows, and desert landscapes are the reverse side of the risk. Moreover, if the risk is too high or the rider is short on Trials skills, hiking a bike is allowed. The problem; going downhill and going fast is fun . . . until it suddenly isn't. This aspect of mountain biking was illustrated in a crystal-clear format to several of us one day on Green Mountain.
Ed and I had traveled and road raced together as teammates for numerous years. We decided that a winter program of weights and mountain biking would enhance our road-racing prowess. Ed actually had infused winter weight training into our team several years earlier and had set the standard by winning the State Road Championship--an indication that perhaps we too could rise above just being pack fodder, which we had for several years. In fact, one of our guys at the team end-of-season pot-luck indicated that "Next year, we're going to suck, cuz this year we really sucked!" The training was starting to pay off though, as members of the team occasionally sniffed the front pack, sometimes landing on the podium.
However, this day of winter training was different. Ed and I started out from my house near Green Mountain, up residential streets to the trailhead and onto single-track. I was in the lead, but dropped a chain. He went ahead and I then tried to catch back, but he was really hitting it and rocketed down a hill into a slight right turn as the trail crossed a gravel road, the hump of which cast him wide into grass and rocks, and a violent endo. He crashed headfirst, as if diving straight down into a pool. I knew the landing was bad, so asked several mountain bikers, who came from the other direction, to call for an ambulance from a convenience store about ½-mile down a nearby road--pre-mobile phone as it were. I stayed with Ed, trying to keep him immobile. It seemed like it took forever, but finally a fire truck appeared. After having waited for what seemed so long for help, I was incensed that these guys had shown up for a fire, thinking, What the hell good is a fire truck? However, the firemen were well-versed in EMT requirements. After I told them of my fears, they placed a collar on Ed's neck and waited for a follow-up ambulance, at which time he was strapped to a board for transport. Ed withstood complicated surgery to stabilize broken vertebrae and a long recovery in a halo with points drilled into his head to race again. I had just ordered a closeout deal on a carbon, mountain-bike frame in an effort to improve my racing stature. However, Ed's incident caused me pause, as I thought maybe it was an omen. I phoned the dealer, thinking I would cancel the order. He cheerfully mentioned the frame had already been delivered. Thus, omen or not, the die was cast.
A new bike improves a person's riding ability—at least for a while. The new carbon bike was no exception, it climbed like a mountain goat and was quick on anything cross-country (although a little slow on descents—as was the rider), and I put it to good use in the Winter Park Series, and the Rocky Mountain Endurance Series for more than 5 years.
The Wild Flower Rush in Crested Butte was part of a Warriors Mountain Bike Series in the early 2000s and an idyllic cross-country race occurring in late June.  It's "wild flower" name delivered. The cross-country race was composed of several long, daunting climbs and then tricky descents. My category raced two seven-mile loops. This race for me was important, as it was also a qualifier for the National Mountain Bike Championships. Coming in to the last descent, I swept through several chicanes in aspen trees, only to have the front tire skid sideways. I got a foot out, but not far enough as a possible catching tripod and catapulted over, hitting the only rock with my head in an otherwise cushioning layer of moss, leaves, and flowers—larkspur, if I remember correctly. I smacked my check (zygomatic bone), and hard, then felt something dripping onto my jaw and down my neck. The finish was not too far, and I continued the descent and hustled to the line, as I needed to be in the top five in my category to qualify. People in the finish seemed quite alarmed at my condition—and I realized the appearance of blood causes that reaction. An official forcefully escorted me to nearby a ski-area clinic. I parked my bike against the side of the building and waited a while inside, as there were other emergencies and only one doctor. Other people in the waiting room appraised my condition to see (I thought) if I would be placed in front of them in the queue. A medical assistant gave me alcohol wipes to clean the side of my face as I waited and escorted me to a restroom, indicating a mirror might help and a faucet and sink. Geeze, the mirror reflected a real mess as the cheek had swelled to where the eye squinted back at me. I scrubbed the area that had been drenched by blood even soaking the top part of my jersey in cold water and squeezing the reddish water into the sink. Finally, the doctor had a look at the injury and indicated that I needed stitches, but that he had about three other people to deal with first. I realized, or maybe he said it was because downhill racers were practicing and some had crashed (all apparently normal). My wife and a family friend caught up with me. We had planned to do lunch after the race, and I thought we might as well, since treatment was in the future somewhere. They refused to go however, saying, "You should see your face!"
However, it wasn't just racing that was dangerous on a mountain bike, as Ed had exhibited so many years ago. My cousin and I have ridden a lot of the Colorado Trail over the years, mostly sections of it from Breckenridge. We have branched out though and ridden other areas farther afield, for example, from Kenosha Pass to Georgia Pass. All epic trails. One of our trips started at Como to access the Gold Dust Trail, which ascends to near Boreas Pass, an 18-mile round trip. One of the unique features of the trail is the flume portion, which is an old ditch system used to convey water for gold-mining operations back in the day. The flume curves and snakes in an out of trees, the curves banked to help a person careen around them. On the way back, I started to use the flume as if it was a bobsled run, with my bike and me going faster and faster. I was thinking about the mountain bike races at the Huntsman World Senior games in October; how I would train like a dervish and hammer the cross-country race. Suddenly, a curve to the left tightened and I was wide right where a large ponderosa tree was close and a thick root extended down into that part of the trail. The front wheel of the bike stopped and the bike kicked up to be vertical. I landed on the front of my helmet and cheekbone—oh yeah, zygomorphic--the other side from the Wild Flower Rush episode, trying to be symmetrical in structural damage. The impact was severe and I had an instant headache. Blood flowed from the nostril on that side. My cousin caught up with me, trying to understand why I had tried to self-destruct. I had brought first-aid material and packed the nostril with gauze to stem the flow. We slowly made our way back toward Como. The single-track and rocky areas were jarring, and we soon bailed onto the gravel road to access our vehicles. Lunch for me consisted of a milkshake. The nostril continued to drip into the next day and my face had swollen to fat-boy proportions, nearly closing one eye, but the damage was only cosmetic. I had to explain to my cousin about "that thing" in my head being absent for a few minutes. In retrospect, I thought I may have grabbed the brakes when realizing I was out of control; if not, my 29er may have rolled over the large root. Or, maybe not. My grandkids felt sorry for me. Others in the family by now did not, and my teammates thought I should stick to road bikes.
However, I wasn't ready to give up on the mountain bike yet, and wanted to qualify for a second National Championship; this in Sun Valley, ID. One of the qualifying races was held at Sol Vista (Granby Ranch) in the fall and I had raced this epic mountain venue before. The memory was somewhat tarnished however, as that race occurred the first year I attempted large-scale mountain bike racing. A race flyer had caught my attention, and read something like; Silver Creek Resort at Granby, race climbs through purple hills of sage, onto single-track into beautiful aspen forests, exhilarating descents, after-race gathering for beer, snacks, and awards at the ski lodge. It sounded appealing, and I read it again to strains of the Sons of the Pioneers crooning in the background. Not only that, but I was already scheduled for a road race in Grand Junction on the following Sunday. So let's see: pack the little station wagon with the road bike and wheels; mountain bike on the rack; travel to Silver Creek early Saturday morning; do the mountain bike race; rehydrate on the ski lodge deck (maybe get an award, heh heh); repack the car; drive to Grand Junction; meet the guys; have a nice pasta dinner; tell a few tales of the day's battles; then hit the sack and race the next day. It all sounded great!
Back then, National Off-Road Bicycle Association (NORBA) sanctioned mountain bike racing and there were three classes: A for pros and experts, B for intermediate, and C for beginners. I was licensed as a beginner and all of us "newbies" started at the same time in a large glob. Women and men categories and age groups results were to be sorted out afterward.
Thus, all of us "C" racers started out as a large amorphous mass on the ski area service road, which climbed several hills, some quite steep to the higher reaches where indeed there were hills of sagebrush and single-track. Long before we were on any single-track, the mass reached a short-steep hill. Many people could probably ride it, but conversely, in the experience mix of the C category, many could not and some were already pushing their bikes. This caused a domino effect, and a woman in front of me suddenly dismounted, hitting me in the chest with her right foot as she threw it back over the bike in a kind of karate kick. This of course forced me to quickly dismount , which domino-like caused others behind me to do the same thing. I pushed the bike up the incline with the others, while we watched the more adept string-out far ahead of us. We continued the climb up the service road and the mass strung-out. I used the time on the road to pass some of the slower riders, thinking we would finally get to single-track and the "purple sage hills". My cyclometer indicated we had been racing for 30 minutes already though, and I wondered when we would reach the redeeming, epic features of the brochure. I was ready for the beautiful aspen forests. By the time I reached this part of the race, I had already been pounding away for way over an hour. Finally, the course angled downward, still in aspen forests. I was running out of gas though and fell over into a grassy swale while traversing a narrow, but deep cut. I sat there a while squeezing a Goo pack into my mouth and then chased it with water. I knew the race was 18 miles and my cyclometer showed 15 something. However, I could not do the math to figure out how much remained. I mounted up and continued the descent, having been passed by many of the racers whom I had passed on the climb.
I laid flat on the ski lodge deck starring at the sky, sipping a recovery drink as results were tabulated. I tried to ingest a ham sandwich, but barely had enough energy to chew. Much later, I finally regained sufficient momentum to load the car and, like a retreating dog, tucked tail and headed back toward Denver, the Grand Junction race having gone the way of the passenger pigeon. My wife was surprised I was back already, and my road team did fine without me.
By the time this later qualifying race occurred at the same venue, I was much more experienced in mountain bike racing and in dealing with the longer endurance aspect that many of these races required. Not taking too much for granted though, I drove to the venue three days before the race to check it out via a training run on the lower slopes of the course. This section of the course was interesting, because the descent intersected with a piece of the downhill course, which for cross-country racers usually portends hair-raising aspects to mountain biking. One jump could be avoided by going around and crossing a narrow kind of ditch. I studied the jump though, thinking it didn't look too bad and continued down the course.
The race for the older masters was one loop of a 9-mile course, which seems short, but nonetheless consisted of two large climbs and of course two descents. These significant features were interspersed with a lot of steep, twisty, tricky descents through forests (where a steering error could be problematic) among successive, short steep climbs. So, I figured it would be challenging and 9 miles would be plenty, taking maybe an hour and a half.
The participation in my category was low, composed of five greybeards. We evaluated each other at the start line, seeing if there were any chinks in the athletic armor; if there were still signs of residual muscular legs or if a paunch instead had settled in to stretch the race jerseys. The top five qualified, so it was a "no brainer" that all I had to do was finish. But, as I completed the evaluation of my competition, I thought I could do better than that. I knew several of the guys and we exchanged pleasantries.
I was tired by the time the last big descent angled toward the finish area. I had raced fairly hard and thought I was in second place. I approached the part that intersected with the downhill course and could hear snippets of sound from the finish area. The jump was in my sights, and I figured, don't slow. If I was traveling at 15 mph, I should have been at 18. If I was traveling at 18 mph, I should have been at 20. I cleared the jump, but not far enough and the bike careened nose-first toward the point of the landing instead of the more gentle slope farther out. I saw the ground approach and at least knew enough to keep my head up. The impact snapped my neck back into the most severe chiropractic treatment ever, and I heard a loud snap. The impact stunned me, but I finally got to my feet. My arms were on fire, and my left hand was numb. The only bike issue seemed to be crooked handlebars. I didn't know it then, but the rails were sprung and the saddle was canted over to one side. The finish line called and I still had hope. A man with a large fanny pack came jogging across the slope to me and said to sit back down, that I wasn't going anywhere. I realized he was a paramedic. He asked how I felt and I mentioned that I thought I had taken all the skin off my forearms. Because my race had been early in the morning and it was cool, I had on arm warmers. He peeled these down and indicated that the skin was intact. He then said he was radioing for more help. I sat back, realizing his suggestions seemed prudent and tried to relax my fiery arms. A woman spectator approached, saying she was a nurse had also seen my unsuccessful maneuver and likely had neck injuries. The paramedic had already started to install a collar. I heard the sounds of a motor and an ATV with a kind of box or platform on the back approached. I was strapped to this platform; face-up of course. By now, I was ready for a ride, as the fire in my arms had intensified. I wiggled my feet just to make sure lower extremities were working. As I left the site, starring upwards at the sky, I hollered, "Don't forget my bike!" The woman nurse indicated she would make sure it got down to the finish area and my wife.
My ride on the ATV was rough, but I was soon transported to a large 4WD Chevy Suburban and then at the ski area base to an ambulance. My wife and a family friend met me there and I again told them to get my bike. They indicated it had already been brought to them, so I tried giving then instructions by speaking to the sky of how to place it in the back of my truck. My wife has been witness to many of my adrenaline searches over the years and especially those that have ended in carnage and a doctor's office, but this might have been the final episode. The paramedic attending to me hooked in an IV and started pain medication. Felt great.
The staff at the Granby medical facility took charge, and a doctor, after viewing me for a few seconds, ordered a CAT scan. The staff slowly removed my helmet, which had a major crack in the front, and wiped a cut on my forehead. They indicated I was lucky because the facility had just installed a CAT scan unit, otherwise I would have had an ambulance ride to Denver. They stuck me, still installed on the wooden World War I-like stretcher, into the large tube with instructions to hold still. I was brought back out and parked on a gurney. The staff indicted the doctor would check the results as soon as he could. The facility was busy, as there had been other injuries from the mountain bike event, especially the downhill event practice—normal, I thought.
I heard snippets of conversations as I lay, starring at ceiling tiles and fluorescent lights, wondering how long this was going to take. By now, much of the electrolyte fluid I had ingested from my Camelback during the race had come home to roost in my bladder. It probably had been 4 hours since the start of the race. I thought a bathroom likely occurred in one of the side rooms that I could see out of my peripheral vision. I tried not to think of it and again eyed the ceiling tiles, tracing patterns. Finally, a nurse came to check on me. I asked if I could get off the board sometime soon. She checked with someone nearby, noting, "That guy says he's uncomfortable on that board. He doesn't have much meat on his butt!" I was alarmed that I appeared so skinny. Another staff member came to check on me and indicated she would check with the doctor. I again thought about the side room with a toilet. By now, I was certain that one occurred somewhere close. Finally, the doctor hovered over me and said I was lucky, having only fractured vertebrae in my neck with no displacement. He allowed staff to remove the restraints and I gradually sat up. The board still had dirt and grass scattered on it from the crash site. The doctor said that he also mountain biked and that anyone over 40 should keep it on the ground. I replied," Now you tell me!" He wrote a prescription for pain drugs, indicating that nerve damage was unpredictable and it could take weeks for the pain to subside. I thought, this information is quite encouraging, while I slowly made my way to that side room and toilet. "The best piss in a long time" is how I characterized the interlude.
The fire in my forearms continued to rage for days afterward and I used some hefty pain medication for its abatement. Finally, the pain was replaced by numbness and tingling in my hands, especially the left. These gradually subsided after several months. I resumed riding and training after a few weeks, finding that it was going to be a longer process than I anticipated getting back to full racing shape. General weakness persisted for several months. I knew by now that it was a bad idea to go over the front-end of a ladder, a saddle bronc, or a bicycle, and resolved to not—again. Well, to keep my head up in any event. The other side to the coin is that I qualified at the Wild Flower Rush the next summer and raced a daunting 30-mile cross-country course at the Mountain Bike National Championships a year later in Sun Valley, ID to a silver medal with no crashes, no flats, no bobbles.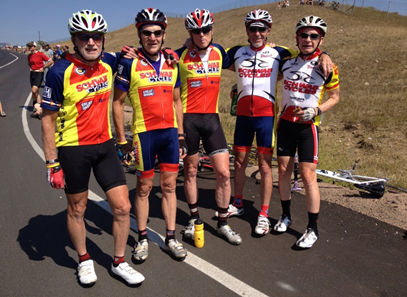 Schwab RT Oldies but Goodies; Ed, Scott, Gary, Loren, Bill
I think that all of the guys on my cycling team through the years have only a small component of "that thing" in our heads (maybe some of us have next to none) or we wouldn't have embarked on a sport with such high demands and potential for disaster. All of us have experienced the sudden stops in our pursuit of this sport and an avocation we love. In all cases, these incidents luckily were a minor, but always memorable component of our journeys. Whether it was a crash from another competitor clipping a front wheel (Gene), a rolled front tire in the Bannock Criterium (Gary), hitting the ground from a collapsed front wheel in a TT (Ed), breaking a collarbone during a national championship road race (Scott), summersaulting into a forest (Fran), we all have gone through it. However, the journey is worth these minor (sometimes not so minor) components of the sport. Cycling for fitness is certainly worthwhile. However, to race requires harnessing the fitness aspect to a focused training regimen and then seeing if the regime pays off in terms of results, or at least achievement. To determine if athletic ability can be honed to perform in a demanding avocation where flying around a corner in a pack, working as a team against other teams, trying to do the same thing, although risky, is so rewarding.